Venue: University of East Finland, Kuopio campus
Address: Tietoteknia building, Savilahdentie 6, 70210 Kuopio, Finland
​
How to get there
Airport
Flight time from Helsinki: about 1 h. Distance from Kuopio city centre to Kuopio Airport is 17 kilometers. Bus line 40 operates between the airport and Kuopio city centre. Information on bus tickets and schedules are available on the Vilkku public transport homepage.
Railway
Train tickets can be purchased about 3 months in advance. The easiest connection from Helsinki Airport to Kuopio is to change train in Tikkurila (only 2 stops from the Airport).
Travel time from Helsinki depending on your connection: about 4 h 20 min. Distance from the venue to the Kuopio Railway Station: about 3 km. Please check the train time table here.
Parking & Driving Directions
There are parking spaces that belong to the University of East Finland close to the venue (Tietoteknia
building) which can be paid with an app or at a ticket machine. Information about Kuopio campus parking
here: https://www.uef.fi/en/kuopio-campus
Conference Dinner
The conference dinner will be held at the newly re-opened Saana restaurant right at the lake front. A buffet will offer adaptations of local cuisine, and together with the views over the water hopefully serve as a solid basis for good conversations.
​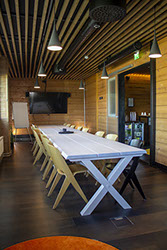 ​photo credits by Kuopion Saana
Address: Siikaranta 12, 70620 Kuopio
Accommodation
Accommodation is not included in your conference fee. Please book your own room at the hotel of your choice.
Following are some hotels in Kuopio that offered us special rates and conditions, so make sure you mention the
codes given to receive these.
​Advice: Note that only the following hotels have agreed upon special booking conditions with JESIUM 2022. You need to book your room yourself. We will not be sending out any e-mail offering support with this. Should you ever receive an e-mail doing just that please ignore it - no matter how official it may sound. Of course you are free to book a room through any other booking platform or company, and of course through the hotels themeselves.
Lapland Hotels Kuopio
Address
Puijonkatu 32, 70110 Kuopio, Finland
+358(0)17 5528802
Rooms
Northern Comfort Single, 104€/room/night
Northern Comfort Twin, 124€/room/night
Room rates include high quality buffet breakfast, WiFi and the use of the hotel's sauna and gym.
How to book
Each guest will book their own room from www.laplandhotels.com with the code ALL091022
Terms & conditions
The rooms can be booked at these prices until 9 Sep 2022. Booked rooms have free cancellation until 6 pm on the day of arrival.
Hotellilaiva Wuoksi – Wuoksi Hotel Ship
Address & contact
Koljonniemenkatu 1 A, 70100 Kuopio
Tel. +358 400 720 600, info@wuoksi.fi, www.wuoksi.fi/wuoksi
Rooms
rooms 99 – 129 EUR, depending on size
doubles, triples available upon request
How to book
The rooms need to be booked by e-mail directly at Wuoksi with code JESIUM2022. Payment possible either cash or with credit card.
Terms & conditions
The rooms can be booked at these prices until 30 Sep 2022. Cancellation conditions to be agreed individually
Hotel Jahtihovi
Address & contact
Snellmaninkatu 23, FIN-70100 Kuopio
tel. +358 (0)17 2644 400, info@jahtihovi.fi, www.jahtihovi.fi
Rooms
Single room 90 euros/night
Economy twin room 105 euros/room/night
Standard twin room 110 euros/room/night
Standard triple room 130 euros/room/night
Apartment (2 separate rooms with bathroom and toilet) for 3 persons 150 euros/night or for 4 persons 170 euros/night.
All prices include buffet breakfast, Wi-Fi and evening sauna.
How to book
The rooms need to be booked by e-mail directly at Jahtihovi with code JESIUM2022.
Terms & conditions
The rooms can be booked at these prices until 28 Sep 2022 with code JESIUM2022. Cancellation possible until a few days before arrival.
Some other options:
Of course you are free to book any other hotel in Kuopio.