Sponsoring
We cordially invite you as exhibitor or supporter to the Joint European Stable Isotope Users group Meeting – JESIUM 2022 – to be held at University of East Finland's campus in Kuopio (Finland), October 10–14, 2022.
Stable isotopes have become a crucial research tool in a wide range of scientific fields. The purpose of the meeting is to bring together a broad range of stable isotope scientists from all over the world, to encourage communication across disciplines and country boundaries.
​1234567Kuopion kampus (photo credits by UEF)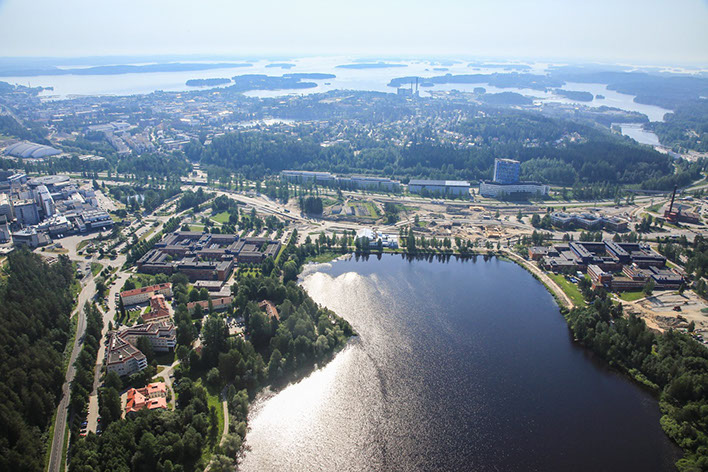 Kuopion kampus (photo credits by UEF)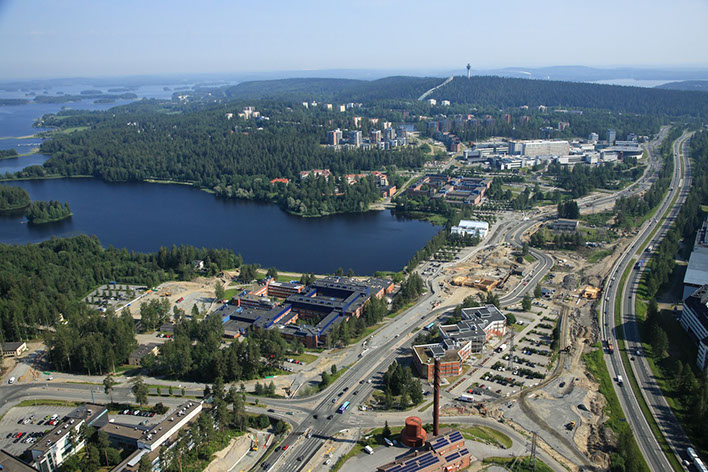 Kuopion kampus (photo credits by UEF)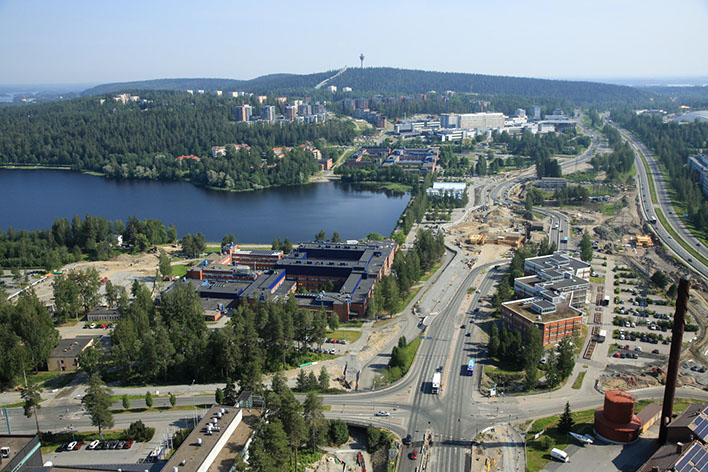 Kuopion kampus, Snellmania Tietoteknia (photo credits by UEF)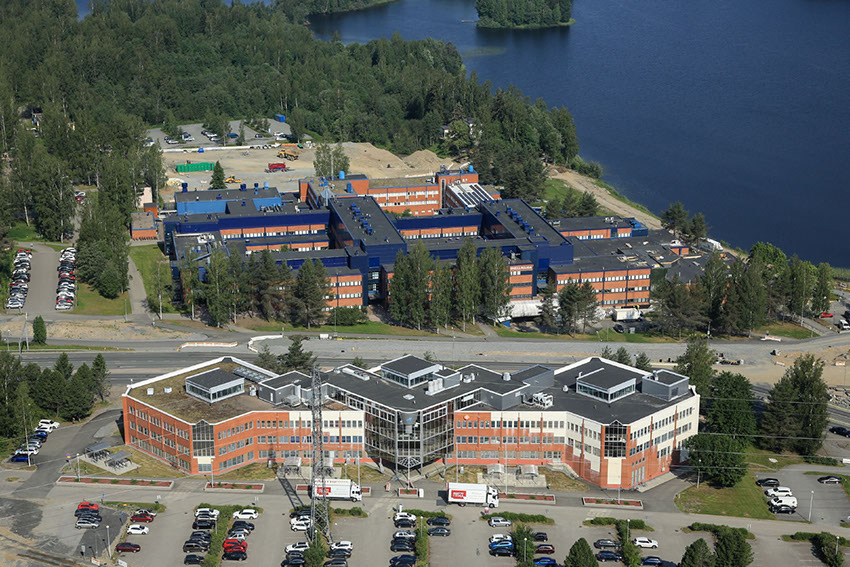 Kuopion kampus (photo credits by UEF)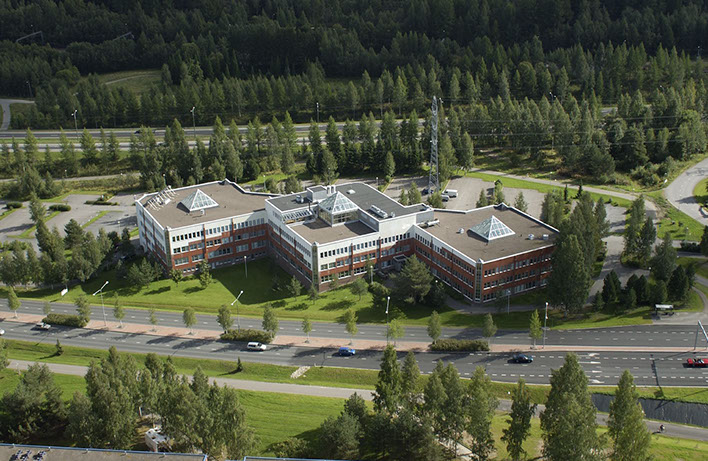 Kuopion kampus in winter (photo credits by UEF)
Lentoon on Kuopion kampus (photo credits by UEF)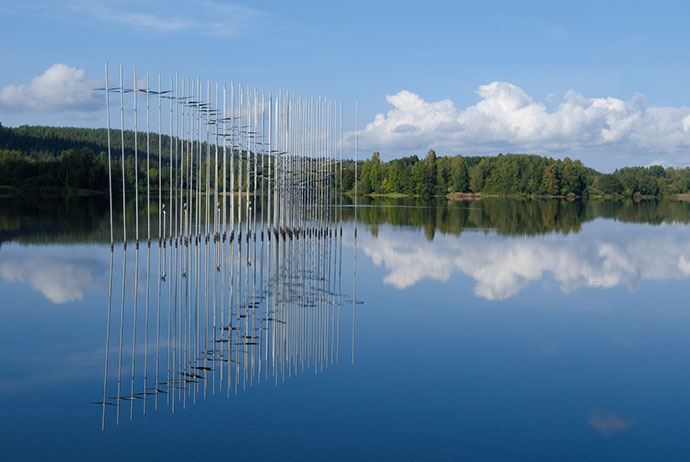 JESIUM 2022 will take place at the Tietoteknia building, right at the heart of the University of Eastern Finland's Kuopio campus and within walking distance of the lake shore. Due to the ongoing pandemic situation, but also for reasons of sustainability and inclusion, JESIUM 2022 will also offer hybrid options for those who cannot make it to Kuopio in person. This hybrid character will be represented in this year's sponsoring packages.
Being an exhibitor at JESIUM 2022 is an excellent opportunity to get high attention, meet the right people and improve business. The conference participants come from a wide range of professional and scientific backgrounds: universities, research centers, industry, and public authorities.
JESIUM 2022 generally offers:
About 200 experts from all over the world;
A high quality program with 11 diverse sessions and excellent international keynote speakers;
A poster exhibition with poster socials and poster awards;
An exhibition area in best position next to the scientific poster exhibition and catering stations;
A beautiful and modern conference venue;
A welcome party on Sunday evening (October 9), combined with the opening of the exhibition;
A vivid and inspiring atmosphere and lots of opportunities for networking;
All possible support with realising exhibition options to truly represent your company.
Last but not least your support will ensure that we can keep the conference fees at a reasonable level, especially for students and young scientists whom we especially want to encourage to participate.
​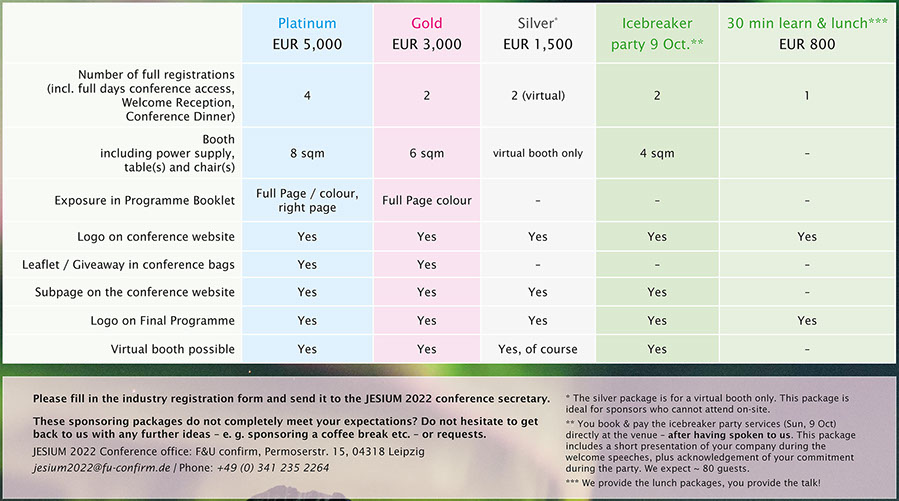 The sponsoring packages and registration form (download).
Please do not hesitate to get in contact with our conference office in case of any questions or should you have other sponsoring ideas (jesium2022@fu-confirm.de).
For planning reasons we appreciate to hear back from you until 22. December 2021 on whether you wish to support JESIUM 2022, and a final confirmation of your sponsoring commitment until 28 January 2022.
We are very much looking forward to welcome you in Kuopio this year!